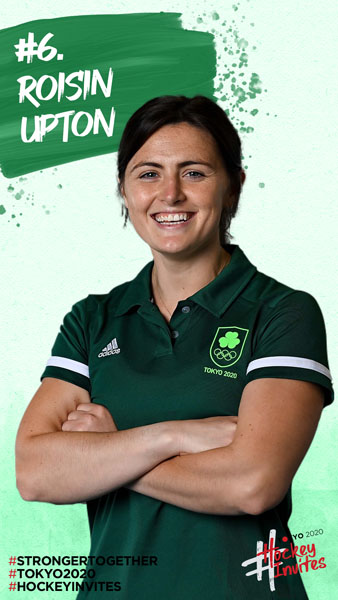 Position: Defence/Midfield
Age: 27
Caps: 81
1st Cap: Scotland November 2016
Hometown: Janesboro, Limerick
Date of Birth: 1 April 1994
Current Club: Catholic Institute
Former Clubs: UConn Huskies, Cork Harlequins
Education: Crescent College Comprehensive
Job: Primary School Teacher
Instagram: @roisinupton
Twitter: @roisinupton
MAJOR HONOURS
International                                               
2017: World League Round 2: gold
2018: World Cup – silver
2019: FIH Hockey Series – silver
Club
2012: Big East Conference winners (UConn Huskies)
2013: Big East Conference & NCAA Division I (UConn Huskies)
2014: Big East Conference & NCAA Division I (UConn Huskies)
2015: Big East Conference winners (UConn Huskies)
School
2010 & 2011: Munster Schools Senior Cup winners (Crescent Comprehensive)
BIOGRAPHY
Upton's international career took a while to lift off after a number of false starts, but the Limerick native has gone on to become one of the pivotal members of Ireland's defence in a sweeper role. From Raheen, Upton attended An Mhodh Scoil and Crescent College before studying at the University of Connecticut where she gained a BA in Psychology. In 2019 she completed her two years Masters in Primary education in Mary Immaculate College Limerick.
As well as playing field hockey in her youth, Upton also played ladies' Gaelic football for Mungret St Paul's and women's association football for Janesboro. Her formative hockey years were with Crescent and Catholic Institute, winning two schools Junior and Senior Cup titles apiece, going on to be named the Munster and Ireland youth player of the year in 2011. It earned her a scholarship to University of Connecticut. During this time she was a prominent member of the UConn Huskies teams that won the 2013 and 2014 NCAA Division I Field Hockey Championships. Upton captained the team during the 2014 season and in 2014 and 2015 was nominated for the Honda Sports Award. Upton also helped the team win four consecutive Big East Conference Field Hockey Tournaments between 2012 and 2015.
On her return to Ireland, she began playing for Cork Harlequins in the Women's Irish Hockey League. Upton, along with Yvonne O'Byrne and Naomi Carroll, played for Harlequins in the 2017 Irish Senior Cup final, losing 1–0 to UCD. In 2017–18 she helped Harlequins finished as runners up in both the Women's Irish Hockey League and the EY Champions Trophy. She re-joined Catholic Institute in 2018, helping them to promotion to the top tier in some style.
For Ireland, together with Emily Beatty and Katie Mullan, Upton represented Ireland at the 2010 Youth Olympic Games. Graham Shaw first included Upton in an Ireland squad in 2015 and then again in January 2016 but, on both occasions, Upton had to withdraw because of injuries. She eventually made her senior debut on 6 November 2016 against Scotland. In January 2017 she was a member of the Ireland team that won a 2016–17 Women's FIH Hockey World League Round 2 tournament in Kuala Lumpur, defeating Malaysia 3–0 in the final. Upton scored four goals in the tournament. She scored a hat-trick in a 10–0 against Singapore.
Upton represented Ireland at the 2018 Women's Hockey World Cup and was a prominent member of the team that won the silver medal. Upton provided an assist for Anna O'Flanagan. In the quarter-final against India, she was the first Ireland player to score in the shoot-out. She would repeat that trick in the most dramatic of fashions in the 2019 Olympic qualifiers, flicking in from the baseline when the ball looked to be running out of play.
At the 2019 Euros, she was Ireland's top scorer with four goals in five games, all of them coming in an 11-0 win over Belarus.