President's Newsletter May 2021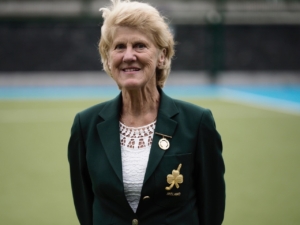 It is great to see that hockey and outdoor sport can start again across the 4 provinces. It has been a long period of restrictions with no games to watch or events to attend.  I must admit I had never experienced meetings on zoom in March 2020, but this has become a daily way of hockey life over the last 14 months.
With no hockey matches and events, John Dennis, Vice-President, Linda Monaghan, National Development Manager and I were keen to communicate with smaller clubs; those that have a maximum of 3 adult teams, are not involved in EYHL and ideally have a developing youth section and have organised pilot communication meetings with these clubs.
We held our first session was on 18th March, when we were joined by club representatives from Antrim, Ashton, Crescent, Dungannon, Dungarvan, Greenfields, Kilkenny, Kinvara, Midleton, Mullingar, Priorians and Tullamore. We were pleased to welcome Eric Brady, Chair of Hockey Ireland's Board of Directors. Topics discussed included how clubs were coping with the Covid restrictions and the impact on their Youth/Underage section; where did their Club see itself in terms of Hockey Ireland's priorities; how did their club see a role for your Club in supporting the Women's team for the Olympics and how was their Club coping financially, coupled with the importance of participation in National Competitions?
A second session was held on 29th April when we were joined by Eric Brady and club representatives from Abbeyleix, Athlone, Ballynahinch, Carlow, Catholic Institute, Clonakilty, Galway, Gorey, Limavady, Limerick, Naas, Raphoe, Saintfield, Tipperary and Wicklow. Over a two-hour chat, topics discussed were how had their club coped with the Covid restrictions and in particular the impact on their Youth/Underage section; how was their club keeping the link between players of all standards, leaving school and continuing to play hockey at 3rd level education; has their club a pathway for developing Under 16 players into adult hockey and would their club be interested in joining a workshop to get advice on grant applications?
We plan to continue with this project with our 3rd meeting on Wednesday 2nd June and hopefully organise a Forum at the start of the new season to feedback on questions that came up in the 3 sessions. My thanks go to John, Linda and Eric for their help, support and enthusiasm with the meetings.
When only our elite hockey players could carry on with their preparations the 3-game series that the Women played against GB in March gave us all the chance to watch live hockey on TV. The Irish women played exceptionally well and showed great determination and drive to level the series with a win, a draw and a defeat. The squad have played another series against Great Britain and continued with practice games against Scotland on 15th & 16th May before the European Championships in the Netherlands in June.
Mark Tumilty, the Senior Men's Coach, is pleased with the progress being made by the players currently involved with the Senior Men's Programme. Regional sessions are taking place in Leinster, Munster and Ulster midweek, with national sessions happening at the weekend. The focus in the coming weeks will be preparing for the European B division in Poland, in August. Mark hopes to confirm warm-up games against Scotland and Great Britain during June and July. It has been a difficult 12 months with many unknowns, but hopefully things are becoming clearer and the players are excited to get playing competitive matches again.
We are delighted to support Inez Cooper's candidature for election to the Executive Board of the Federation Internationale de hockey (FIH). Inez has a long and distinguished history of involvement in hockey in Ireland and has filled significant roles at Club, Provincial and International level. In July 2021 she will celebrate eight years on the Executive Board of the European Hockey Federation (EHF). The election will take place on 22nd May.
Soon after writing my first newsletter, we heard of the passing of Vivienne Clarke, a stalwart of Hockey Ireland. Vivienne will be sadly missed as she went out of her way to help everyone. With the restrictions on travel and funeral service attendance, we were unable to join Vivienne's family at her funeral service but were able to watch the service online and hear the very fitting tributes and joy that she brought into the life of so many. A minute's silence, before the start of Ireland's Sunday match against Great Britain at Queens University's Playing Fields, enabled the hockey community to remember Vivienne.
More sad news arrived when the death of Cees Koppelaar on 26th April at the age of 81 was announced. Cees was Ireland's first external appointment as Senior Men's Coach from 1987 to 1997 and later became an Honorary Life Member of Hockey Ireland. He brought a new dimension to the game in Ireland, based on his vast experience in identifying young talented players in Holland. He established a network of key coaches at Interprovincial level and was a regular visitor to the provinces, where he ran training sessions for existing and potential international players. Behind his affable and friendly approach to all was a steely resolve to achieve. This focus for success was reflected in the Senior Men competing in the World Cup in Lahore in 1990 and finishing fifth in the European Championships in 1995. Tributes to him say that he "put Ireland on the map in European and World terms".
Ann Rosa
https://hockey.ie/wp-content/uploads/2020/12/2tdvMIElSGLqcUwZ2KGeunrt2dj5U34L.png
180
487
Ireland Hockey
https://hockey.ie/wp-content/uploads/2023/09/Hockey-Ireland-Icon-Logo-RGB-300x300.png
Ireland Hockey
2021-05-19 16:33:44
2021-07-09 12:14:43
President's Newsletter May 2021