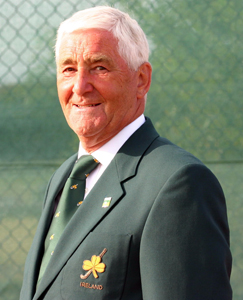 Dixon Rose
Dixon served as Hockey Ireland president from 2006 to 2008 and was widely respected for his love and work for hockey in Ulster and across Ireland.
Dixon was an Honorary Life member, highlighting members of the hockey public who have significantly contributed to hockey. Captain at both International and Provincal level with an Umpire of the year award being named after him. Dixon made his debut for Ireland in 1957 against Scotland in Inverness alongside fellow debutants David Judge, Derek Hennessy and Newry's RB Poots.
Dixon served Cliftonville/CI Mens Hockey for 56 years as Hon Secretary. He was honoured as Ulster President and President of the NCU. He was an Irish Hockey Selector for many years. Awarded the MBE in 2008 for voluntary service to NI Sport, he chaired a plethora of Committees and played a key role in the Ulster Hockey Union formation in 2009.
Dixon Rose passed away in 2022.