For the 2021/2022 season, Hockey Ireland will carry out all registrations through GoMembership. When one becomes a member of a hockey club in Ireland, they become part of the hockey family and part of an olympic sport organisation that continues to enhance the lives of so many people.
To become a member of Hockey Ireland, one must first become a member of an affiliated club and subsequently a provincial branch. A person can apply for membership of a club by contacting their club secretary for more details on how to join. Once you join, the club secretary will first register you via GoMembership and you will then be provided with a unique Hockey Ireland membership number.
All club officers should be familiar with the rules governing Club membership and the rules governing registration of members and players. This is an important consideration for clubs and every effort should be made to comply with all the rules governing this topic.
ONLINE REGISTRATIONS
Online registrations are managed by all Clubs on the Hockey Ireland management system. If you are a new Club Secretary doing registrations for your Club, please ensure you have checked the designated position via GoMembership. This will ensure that you can access the system and will receive communications from Hockey Ireland throughout the season. Please contact membership@hockey.ie if you do not have access.
Rules regarding membership have not changed. You must have a valid membership to play.
Existing Members
To simplify our membership management we are very excited to connect with you via GoMembership.
This system has been designed to enable you to:
Renew your membership
Maintain your own member profile (create profile for new members – via their club)
Associate yourself to an affiliated club – N.B. members cannot join directly they must join via an affiliated club.
Pay online via credit card/Debit card or bank account
Maintain your qualifications and credentials
Book onto events and courses
Receive the Hockey Ireland newsletter with up-to-date news and promotions.
To renew your membership, please visit: https://hockeyireland.azolve.com/Account.mvc/SignIn
Enter your username which is the email address registered by your club. If you have not already logged in, please enter your email address and then click 'forgot password'. An email containing a link will then be sent to you; use the link to select a new password and you will then be able to log in.
You will be able to complete your membership registration/renewal from 01st September 2021.
To activate the included insurance, the deadline to have your membership completed is the 01st November 2021.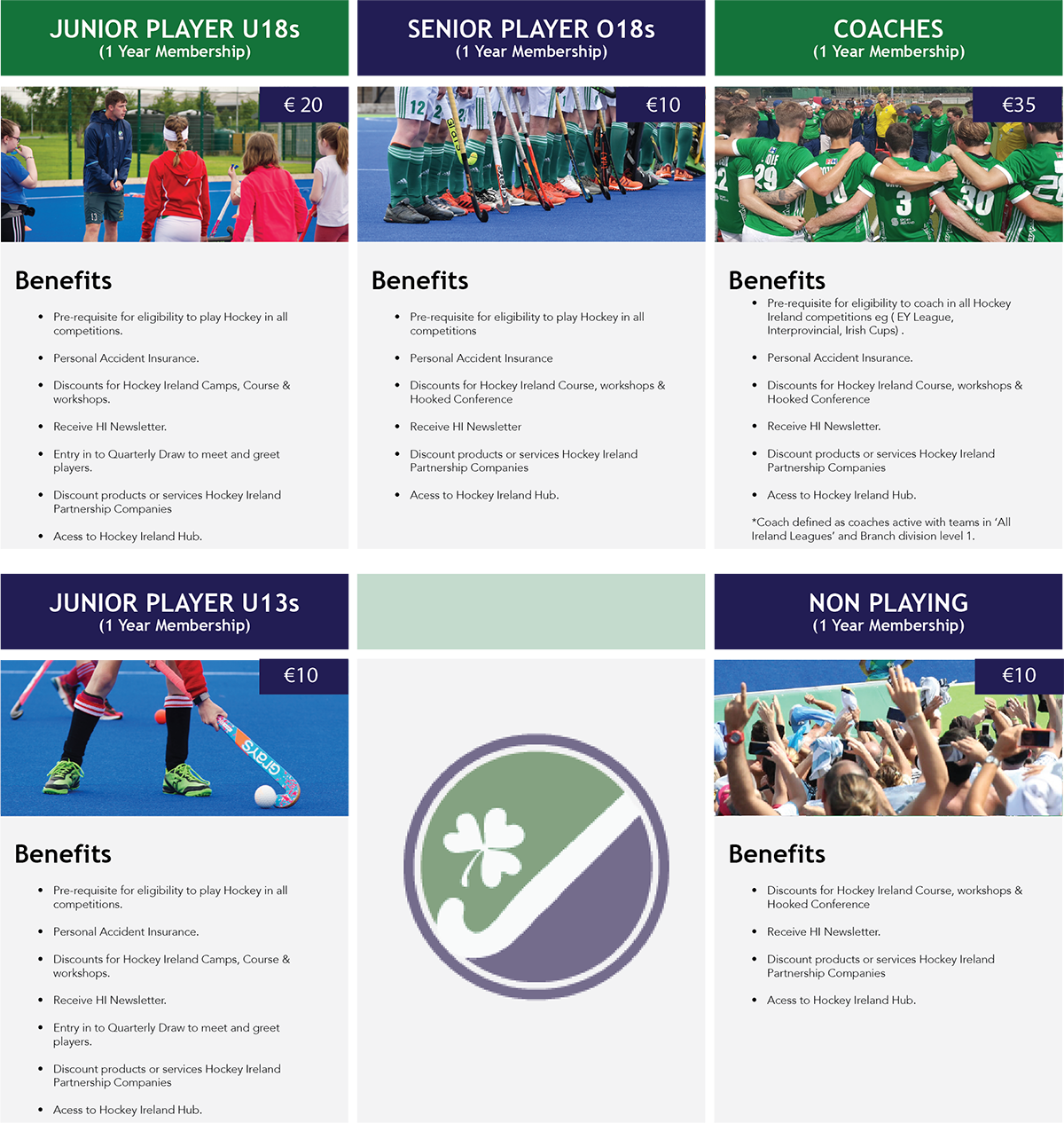 Hockey Ireland will send out a reminder to your email address nearer the time containing a link that you can complete your membership.
New Members
Not a member? Find your local club via our club locator here: https://hockey.ie/club-locator/
Helpdesk
Please email membership@hockey.ie